Molo is 1 of 3 test winners in a resent PFC-free test
---
31 out of 34 brands failed!
At Molo, we pride ourselves on producing children's wear with water repellant properties without any traces of PFC (eg. PFOS and PFOA). And just a week ago the Norwegian Institute for Water Research did an independent survey in Norway of the amounts of perfluorinated compounds and other pollutants/PFC's in children's clothes and babywear and we are happy to announce that Molo came out as a clear top-three test winner.  
Our PFC-free Pyxis snowsuit was tested against 34 snowsuits, mittens and baby products from other brands.  The Norwegian Institute of Water Research unfortunately revealed that 31 out of 34 products tested positive for pollutants.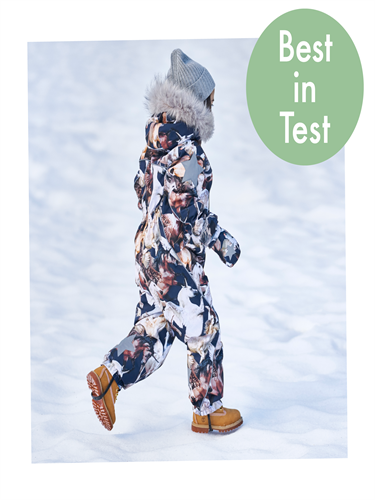 'Producing children's wear with no harmful substances is a cornerstone of the Molo brand and we are so excited to see that all our efforts are paying off', says Marketing Director Rikke Jepsen.
Why should we care?
According to Norway's largest environmental organization, The Future in our hands – FIOH,  perfluorinated compounds and other pollutants/PFC's are severely damaging to the environment and can be a health risk to workers in low cost production countries.
At Molo, we take this issue seriously. Therefore, we use a flour free water repellant treatment that keeps the production of water repellant clothes free of harmful substances to protect our children and the environment.
Read more about the test results here.
Browse the looks